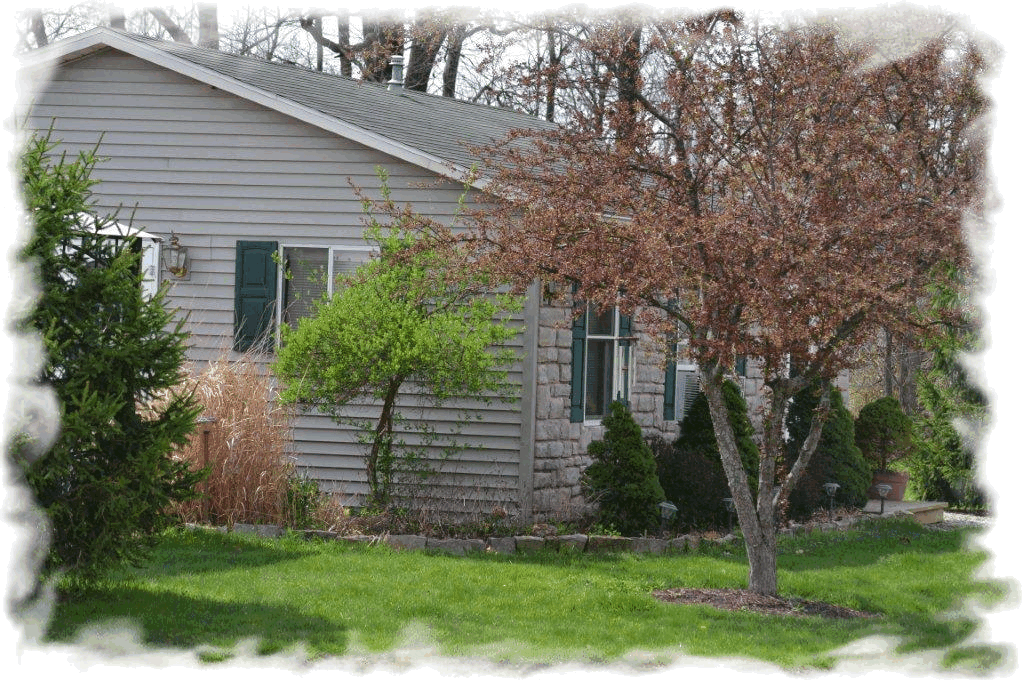 Located in the township of Pittsfield, OH and only minutes from historic Oberlin, OH and Wellington, OH.
Aunt Connie's Cottage is a wonderful place to relax with all the amneties of home. Nicely furnished, tastefully decorated, and complete with everything you need to feel right at home. This one bedroom cottage features a very comfortable queen sized bed with adjoining full bath. Open living and dining room complete with HD satellite television, couch and recliner and even a day bed just in case you have an extra guest that needs a place to lay their head.
WIFI upgraded in June of 2014.
Full kitchen with coffee maker, microwave, full size stove and refrigerator, pots and pans, eating and cooking utensils. Small laundry room with washer and dryer.
Patio with umbrella table and chairs. BBQ Grill
Situated on a nicely landscaped 5 acre lot, you will find it very easy to relax and enjoy your time away.
Whether you are visiting family and friends at nearby Oberlin College or spending your days exploring the nearby Amish Country, you will find Aunt Connie's Cottage the perfect place to end your days.
$150.00 per night. Two night minimum.
Best for two people but the day bed can sleep an extra person on maybe a couple of children.
Call for availability. 440-775-2299
or email esnelson@zoominternet.net
Please leave your name, telephone number and dates requested if there is no answer.
REVIEWS
Lovely and Peaceful
I recently stayed at aunt Connie's Cottage while visiting my son in Oberlin.
Aunt Connie's Cottage is an easy 10 minute drive to the college and is in a beautiful rural setting complete with two friendly dogs and ducks in their small pond. The landscape is beautiful and it is clear that the Nelson's have put their all into their property.
Eileen has thought of everything and it's true, you want for nothing there, there's so much food awaiting you, the furniture is very comfortable,and the cottage was impecably clean. Eileen and her Husband are totally charming and helpful yet very respectful of their guests privacy. I have already booked to stay there again in the Spring.
Joan B. from Western Massachucettes on

11/1/2013

for a stay in 4/1/2013

Cozy and Comfortable
Quiet and quaint atmosphere. This is a home away from home and then some. The refrigerator was stocked with food, drinks, etc. It has everything you would need for cooking if you prefer that rather than eat out. Very comfortable for reading, watching TV and sleeping of course. If you forget some necessities, not to worry, Eileen thought of everything and it was stocked. All you need to bring is clothing. Close to Oberlin College and wonderful little town for gift shopping and restaurants. We would rather stay at aunt Connie's Cottage any day of the week than at a hotel. That is how comfortable Eileen and her family makes you feel at this beautiful cottage. Don't hesitate to stay.
Dan and Rose from Indianapolis, IN on

10/23/2013

for a stay in 6/1/2012

Can't wait to go back!
Don and Eileen are the quintessential hosts. They could not have made us feel more welcome. The cottage is beautiful and inviting. The fridge was stocked along with the cupboards and countertops. I have never seen so much food in all my life! The bathroom was also fully stocked. All you need to bring is a change of clothes. Short drive into town. The gazebo is charming with the beautiful furniture inside. You won't want to leave. I can't imagine a more beautiful or charming place to stay. We will definitely go back.
Patti from Dresden, TN on

10/8/2013

for a stay in 6/1/2013

Home away from home- but more charming!!
My husband, daughter and I stayed here in Sept 2012. The cottage is simply lovely; once you step through the door you feel transported back to Victorian times.. Everything at aunt annie's cottage is homey and perfect; from the antique lace doilies and quilts to the fresh cut flowers and beautiful living room sleigh-bed sofa (where our daughter snuggled in and promptly crashed). Eileen made our visit feel like 'coming home' - except better- because everything was prepared for us ahead of time! Our Victorian cottage stay included a completely stocked fridge with loads of goodies, snacks, juices and fixings for breakfast. Best of all - the cottage is only a short 5-10 minute drive to Oberlin College. If you are visiting Oberlin and have a car - this is the place to stay.. We are heading back soon!
Mary from Towson on

10/7/2013

for a stay in 9/1/2012

Cozy Getaway with all the comforts of home.
I look forward to visiting my son at Oberlin so that I can stay at the Cottage. Eileen and Don are great hosts. They keep the fridge and pantry stocked with breakfast foods, drinks, and snacks. This enables me to feel at home and not have to go out for every meal. I always rest so comfortably at the cottage, too. On my last visit, my husband came with me, and we spent lovely mornings reading books in the gazebo on the comfy outdoor furniture, watching the ducks swim back and forth on the pond. The cottage is only a few minutes from Oberlin and 30 minutes from Cleveland, so the location is ideal.
Sandy from Houston on

10/7/2013

for a stay in 8/1/2013

Really comfortable stay
Stay was very pleasant and comfortable. The cottage was in an excellent location in relation to Oberlin College, which we were visiting. Amenities were wonderful, Eileen had the fridge fully stocked with anything we could possibly want and made sure to stock with some of our own food requests before we arrived. The place is spotless and well-kept. Loved the animals!
Laura from Hartford on

10/6/2013

for a stay in 8/1/2013